How to Talk to Your Admin & Co-Workers About Transferring Schools (& Get Reference Letters)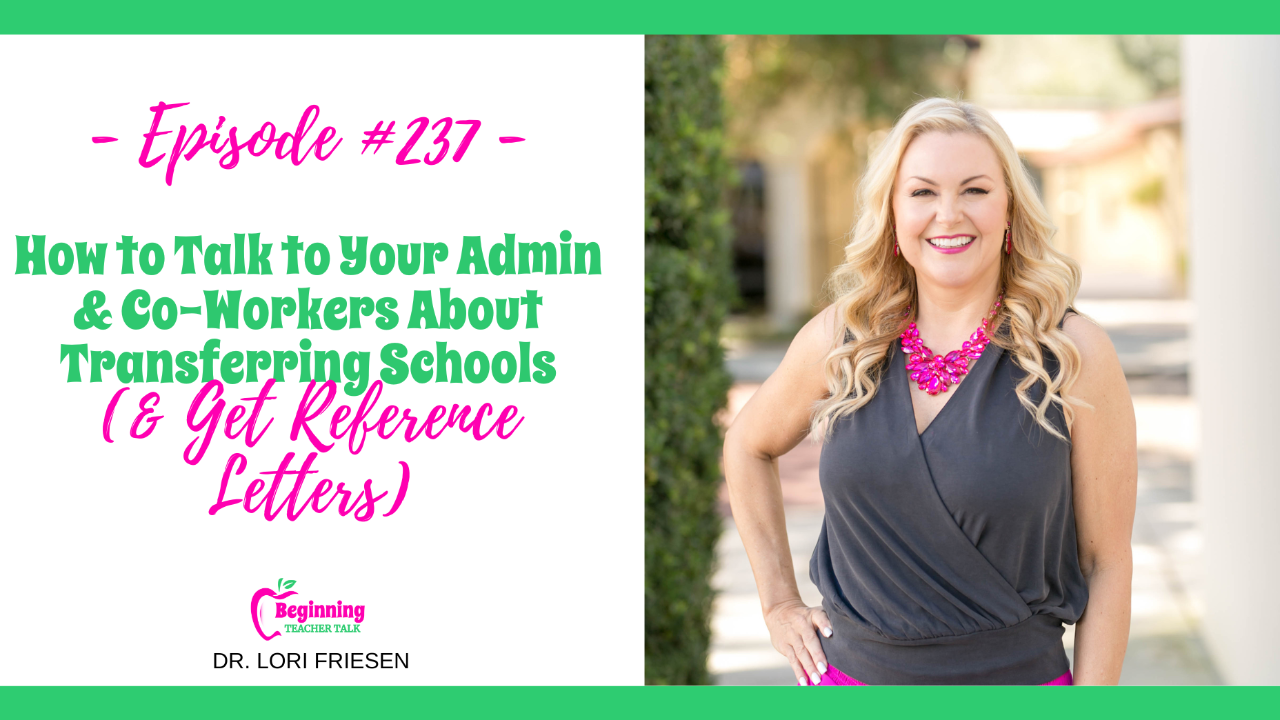 Click the play bar below to listen to this week's show now:
Show Notes:
It's the time of year when we start thinking ahead to the next school year and maybe this is the year you've decided you'll be transferring schools. You might be moving, looking to switch to a different grade, or don't feel supported by your current team or admin. Whatever the reason is, there can be so many emotions that come along with deciding to transfer schools.
The excitement that you're feeling about a new opportunity might be paired with nervousness and overwhelm of what to do next. If you're feeling this way, you are not alone! It's totally normal to feel some anxiety in this in-between time especially when it comes to talking with your admin and colleagues. But I'm here to walk you through five steps I recommend you take once you've decided you want to transfer schools.
It is so important to remain respectful and professional throughout this entire process, regardless of how you feel or the reasons you are leaving. Remaining professional and trying to not burn any bridges before you leave is key to getting good reference letters for your future position. You don't want to come across as negative or judgmental as that may hinder your chances at a good reference.
My advice for when you decide to transfer schools is to be clear, confident, and professional. Be sure to be very clear on what personal and professional reasons you have for wanting to leave your current school. Once you have gotten some clarity, it is time to do what many people dread - talking to your admin and asking them for a reference letter. Believe me, it is better to talk to them in person than to have them find out through the grapevine! Once you have talked to your admin, it is time to tell the rest of the staff and finally, your students.
If you are in this position and ready to interview at different schools, be sure to grab my 24 Teacher Interview Prep Cards freebie! It includes 24 of the most common questions that new teachers get asked during interviews and will help kindergarten through 5th grade teachers get interview ready. To help you stand out from the crowd, I'm also sharing some tips and strategies and adding in a few other fun surprises that you won't want to miss.

Inside this week's show, you'll learn:
Why it is so important that you have clarity around the personal and professional reasons you want to transfer schools.

Tips for how and when to talk to admin

about transferring schools and how to do it in a honest, professional, and respectful way.

How to ask your admin for a reference letter

even though it may feel uncomfortable.

Ideas for how to let the other staff members know that you are leaving

and how to remain in control of how much you share with them.

Why you should let your students know as early as possible

to help them process the change and get accustomed to the idea of you leaving.
Links & resources mentioned inside this episode:
I hope this information is helpful as you prepare for your first, second, or third year of teaching. Until next time, remember, just because you're a beginning elementary teacher, there's no need for you to struggle like one.
💛 Lori
Dr. Lori Friesen | Beginning Teacher Mentor
Creator of the R.E.A.D.Y. for School Academy, Dr. Lori Friesen has mentored thousands of beginning teachers across the country through her workshops and courses. Host of the popular podcast, Beginning Teacher Talk, and creator of the innovative literacy program for 1st and 2nd grade, Dogs Help Kids Read and Succeed, Dr. Lori is dedicated to serving educators and inspiring learners. Learn more at drlorifriesen.com and at howdogshelpkids.com.
Want to listen on a different platform? Here are the links:
Click here to listen on Apple Podcasts.
Click here to listen on Spotify.
Click here to listen on Stitcher.
Click here to listen on iHeart Radio.
Related episodes you

might

enjoy:
Follow:
Are you following my podcast? I release fresh, new content every single week and I don't want you to miss out! 💛 Click here to follow on Apple Podcasts.
Leave a Review ⭐️⭐️⭐️⭐️⭐️
If you are loving the podcast, I would be so grateful if you would leave me a review over on Apple Podcasts. Each time you leave a review, Apple Podcasts recommends my podcast to other new teachers so they feel a little less alone as they navigate their first few years of teaching. Just click here to review, select "Ratings and Reviews" and "Write a Review" and let me know how this podcast is helping you inside your classroom!
Stay connected for surprise goodies & updates!
Join our mailing list to receive the latest news from our team. 💛💕 Your information will not be shared.